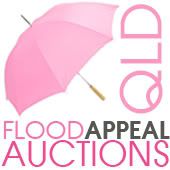 **Please note that auction closing time has now been changed to 9pm EST Monday 24th Jan**
Toni from
make it perfect
has started up an auction to help in the Queensland flood appeal from her blog - So to help out I am auctioning off this funky quilt to help out my fellow Australians!
The quilt is perfect for a cot quilt or a playmat. The front contains fabric from Cosmo Cricket, Patty Young, Heather Ross, David Walker and Erin McMorris plus Kona Solids. The Wadding is 100% bamboo. It is fully machine quilted with straight lines and outlines of some of the quirky shapes in the fabrics.
It measures approx 97cm x 108cm
(please excuse the photos - it is still drying on my clothes line! - I will try to take some better photos later in the day)
As promised - some better photos!










































How this auction works:
1. Bidding will start at $30 (Australian).
2. You can place a bid by leaving a comment on this blog post with your bid amount and email address. Please make sure that your bid is higher than the previous bidder.
3. Your bid must be in whole dollar increments.
4. This auction is open to everyone, Postage is FREE.
5. The auction begins NOW and will END at

9pm

on Monday 24th January 2011.
6. At the close of the auction, I will contact the winner (please make sure your bid comment includes your email address). The winner will pay the winning amount directly into the Premier's Flood Relief Appeal and send me proof of payment via email. Once proof of payment has been received, I will post your quilt to you.
7. Thank you for participating and happy bidding!